Preplan with The Legacy of Love
The Legacy of Love program is the new way to pre-plan and pre-pay for your family's funeral expenses from the comfort of your home without having to go to a traditional funeral home.
Did you know that the average funeral costs between $7,000 and $12,000? This includes the viewing and burial, basic service fees, transporting remains to the funeral home, a casket, embalming and other preparation. The average cost of a funeral with cremation is $6,000-$7,000. And this doesn't include other fees associated with the cemetery like the cemetery plot, vault, and opening and closing of the gravesite. (*1)
Legacy of Love's Funeral Planning Program can help you protect your family from the emotional and financial burden that comes with planning a funeral. By pre-planning:
you are able to let your loved ones know exactly how you want your life to be celebrated and remembered. By having these decisions made in advance, you are helping prevent family arguments that could arise had you not pre-planned. Every decision you make in advance is one less decision they have to make, and your family will feel good knowing they remembered you the way you wanted.
you can protect your family from the large, sometimes unexpected, financial cost of a funeral which can range from $7,000-$12,000 or even more. Many families are unprepared to pay such a high cost. Your family will be so thankful that you had the money set aside for them.
Additionally, the Legacy of Love plan gives you:
access to add on our 24/7 concierge funeral planning services for your family
your own personal funeral planning assistant

who offers emotional support,

manages the entire funeral coordination process including domestic and international transportation,

ensures they are receiving the best pricing available on funeral related items like caskets and urns.
Our concierge funeral services even allows you to cover up to 9 additional family members for no additional cost.

How does funeral pre-planning work?
Our funeral planning specialist will walk you through the different choices for your funeral, making sure you have everything covered. You get to pick out whether you want a burial or cremation, ceremony, viewing, flowers, and much more. Any specific preferences or wishes can be accommodated- whether you want to honor a religious or cultural tradition, pay to fly your family to the funeral, or host a funeral reception dinner- the choice is yours! (*2)
After selecting all of your choices, your funeral planning specialist will work with you to select a premium payment option that is affordable to you. We offer plans that can be paid with a lump sum or over 1 year, 3 years, 5 years, or 10 years. What's great about our program is that you don't pay for the rest of your life like a traditional final expense plan policy. So planning earlier could actually SAVE you money.
Our policy is very easy to qualify for even with health conditions that would disqualify you at other companies. And there are NO medical exams required.
There are also some unique benefits of our policy such as:
Our policy pays the death benefit to your designated beneficiary, NOT the funeral home. So you can use this plan at ANY funeral home. So if your designated funeral home ceases operations or is sold, your beneficiary has the ability to choose a different one. They also are able to keep any leftover funds from the funeral, unlike traditional funeral planning where the funeral home is the beneficiary and they manage the funds.
If you're worried about your funeral costing more due to inflation, don't worry we have that covered too! Our policy's death benefit grows at a current rate of 2% each year to help cover the effects of inflation.
Our policy could qualify to be Medicaid Asset Exempt* (dependent on state approval), which would protect your funeral funds should you need to qualify for Medicaid.
We offer concierge funeral planning services where a caring representative would work with your family at the time of need to provide emotional support, reviewing funeral pricing, and coordinating arrangements. Allowing your family to spend more time grieving together than being on the phone with the funeral home.
With Legacy of Love, you can preplan your funeral arrangements, have the money available to your family to cover the cost, and provide concierge funeral planning support so your loved ones don't have to go through the process alone.
Just click the image below for a free, no-obligation consultation and quote or you can call or text us at 540-597-5715. We look forward to helping you with your funeral pre planning needs.
These plans are currently available in AL, FL, GA, IL, IN, KY, LA, MI, MO, MS, NC, NJ, OH, SC, TN, TX, WA, WV.
Not currently available in AR, MD, or VA.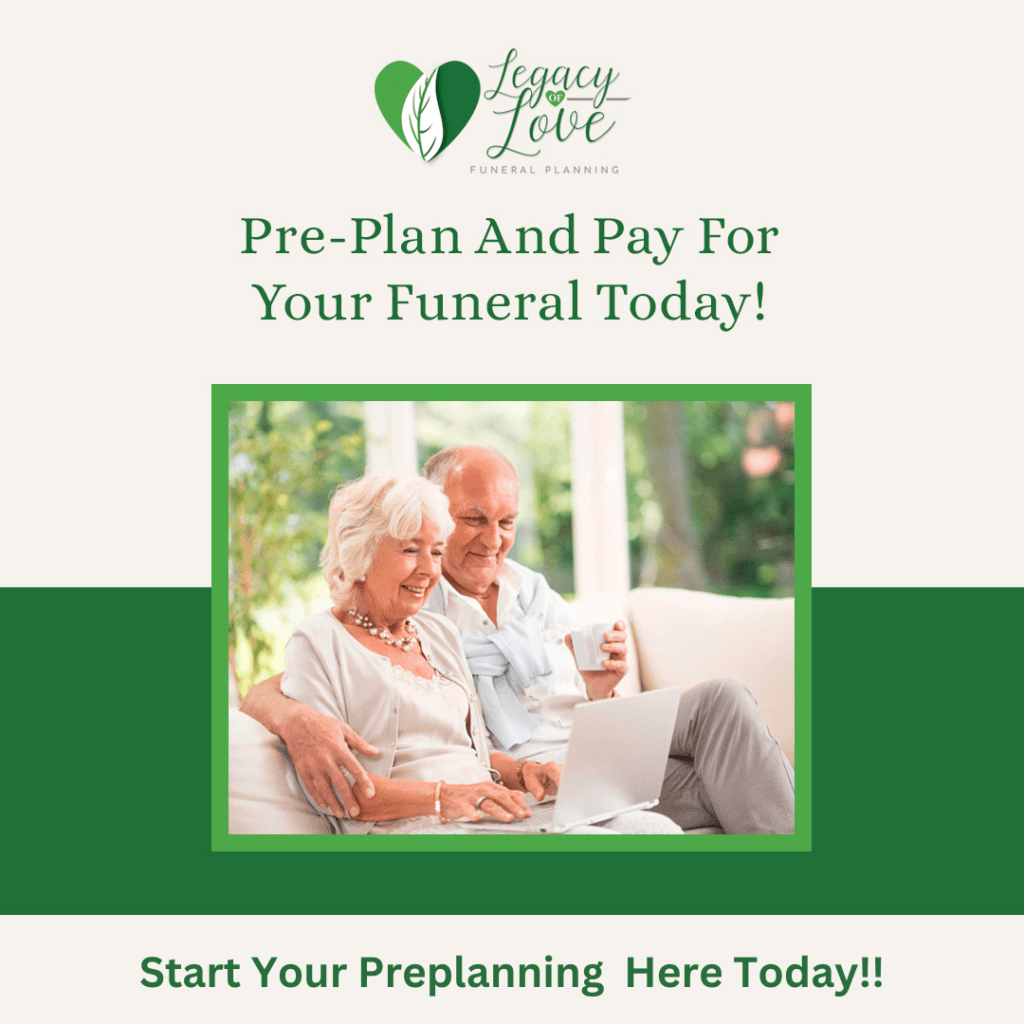 *1 According to https://www.forbes.com/advisor/life-insurance/how-much-does-a-funeral-cost/
*2 According to the Study of American Attitudes Toward Ritualization And Memorialization. No more recent study available.