Whether you are making an effort to get more organized and be more productive for the coming year, or you have simply found yourself in a state of disarray in your personal or professional life and want to tidy things up, digital planners may be just the tool you are looking for.
The problem with digital planners is that they are still in their infancy in terms of most consumers being aware of them. They have come a very long way in the number of options and designs that you have, and how they function.
More people are turning their backs on print products and moving to embrace digital books and files that can help them learn information, keep track of their schedule, and manage their lives better.
Below, You'll get a better understanding of how digital planners work and how you can use them in your life effectively. You will see the stark contrast between digital and physical the planners, and why one is far superior to the other.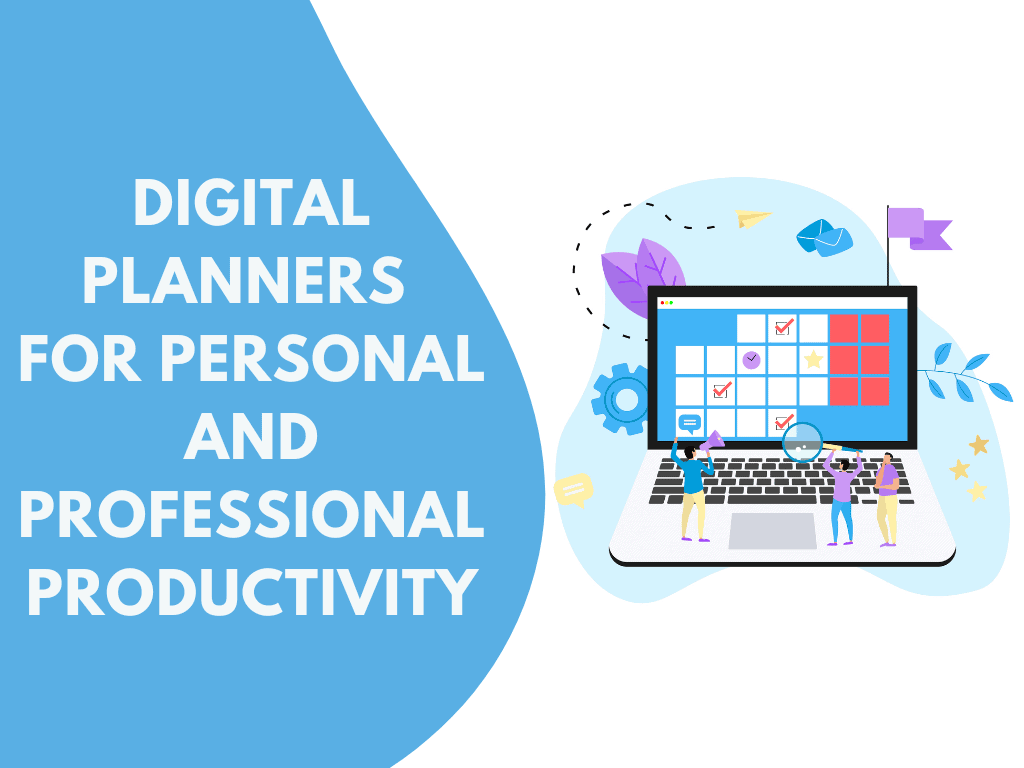 The Benefit of Using Planners in Your Personal and Professional Life
Before you can understand the rising trend in digital planners, you need to embrace the concept of the planning process as a whole. Using planners of any kind can benefit you in both your home and career life.
Not only do you stay organized, not putting yourself at risk of forgetting important dates or schedules, but you can also use planners to set and track your goals, giving you added incentive to keep up the momentum.
You're able to quickly discern what should be prioritized and know what tasks have to be completed in order to stay on schedule for your mini milestones. If you have a particularly busy schedule, then a planner can ease the stress and confusion you might feel trying to juggle too many things at once.
The Drawbacks of Traditional Physical Planners
Planners come in different formats – primarily digital and physical options. For decades, print planner were your only option, and they came bound for you. Then sellers began offering printable planners.
These are digital files, but they're ultimately used in a print form. This is an upgrade because you could print the file again and again if you needed to. But the problem with print and physical planners is that you can't reuse the paper you write on.
If you buy a pre-bound planner, you have to cross out any mistakes and you end up with very little room to record everything you need. They're also usually dated, which means if you don't happen to use a specific day in your planner, it goes to waste – whereas an updated one allows you to get full use of the planner.
Why Many Are Switching to Digital Planners
Digital planners have become the go to option for many people, especially those who feel comfortable with technology and who prefer having everything on their computer or smart gadget instead of in a physical form in front of them.
These files are editable, so if there's a mistake, you simple edit what was written. You never end up with things crossed out and in a situation where you're running out of room.
The digital planners also don't take up physical space in your home. If you order a yearly physical planner, it's a often bulky book that you have to then carry everywhere with you – or hope you remember to update at a later time.
Digital planners are highly customizable, too. You can often customize the look of it – down to the font and colors being used in the planner. And you can access it anywhere if it's using a cloud or app system.
They even have digital stickers you can purchase to use in your digital planner, just like the packets of physical stickers people often like to use in their planners. For example, you can buy a pack of vision board motivational digital stickers that you can use in your online planners.
What You Need to Use a Digital Planner
Whenever you decide to try or use a digital planner, you have to find one that works with whatever system and setup you have. Make sure the planner will be compatible before purchasing it.
Typically, people like to use a tablet and stylus along with a note app. So this might be something like an iPad and Apple Pencil, along with GoodNotes or the Evernote app. You'll import the PDF to your notetaking app.
You can also often use a digital planner on a smartphone or computer, as long as it's compatible – but you'll need a PDF viewer or reader. Some digital planners work on a PDF basis on your computer, while others use apps that sync across your devices, so they can be accessed anywhere.
The Many Variations of Digital Planning Elements
The features and elements that digital planners have make them a very attractive option. First of all, you can download digital planners with days, weeks, months, and year-long planning pages.
Some of them are dated and some are undated. But you can also find planners that have categories for all aspects of your life. You might have planning pages for your fitness, your nutrition, your self care, any project planning you're involved in, your daily to do list, habits and goals you're working on, financial management, and even blank pages, too.
You'll find some digital planners that suit your whole life and some that were created for one specific, narrow purpose, such as a financial management planner that helps you track your journey getting out of debt, saving money, and so on.
The Best Way to Stay Organized with Your Digital Planner
As soon as you purchase your digital planner, you want to spend ample time learning how to properly navigate it. The more bells and whistles you get for your planner, the more confusing it might be if you don't take time to watch or read the tutorials.
For example, some digital planners allow you to operate in a split screen. Others have tabs to quickly and easily take you to where you need to go. You can also use hyperlinks to navigate in some digital planners.
You want to be consistent with your usage of your digital planner. If you download it and only use it once in awhile when you feel disorganized and overwhelmed, it won't be of any use.
Avoid Problems with Digital Planner Usages
Believe it or not, every planner can pose problems for you. With digital planners, you might get tempted to micro manage your daily activities. But your goal is ultimately to be productive in achieving your goals.
So don't track every single movement throughout the day down to the second or minutes. You'll end up spending more time planning than doing, and that's not helpful. You need to be an action taker and the planner is just a guide.
At the same time, don't jump right in using it without learning it. You don't want to be an all or nothing user. Take your time getting to know the features and navigation of the planner and level up so that you're not frustrated.
Keep in mind that this is digital. If there's anything important that you need to keep track of, print the page(s) that you may need in case there's no power or you're unable to access your files.
Digital planners are being sold in many different online stores. Instead of having to order a planner and wait for it to be shipped to you, you should find one that's right for your needs and download the files so you can start using it today!
Digital Planners may be what you need to get more organized and be more productive for the coming year, or you have simply found yourself in a state of disarray in your personal or professional life and want to tidy things up.